My website can actually make me money?
Having a website has become a prerequisite for doing business today. However, for many small businesses, their investment in their website is not paying off. That's because it's simply not good enough to just "have a web presence" anymore.
As a marketing and technology consultant to small and large businesses, I would argue that you don't need a website. What you actually need is a profitable business. So, if you invest in a website, the number-one rule of thumb is to make sure it's a website that makes money for your business. And for your website to make money for your business, it must be working for you — and I mean literally working, as would your #1 employee.
So many business owners
come to me and tell me
they need a website.
When I hear this,
I tell them,
"No,
you don't
need a website….
What you need is
a profitable business."
At Cloud Mountain Marketing,
our business is growing your business; we just happen to do it through technology.
***
Steve Johnsen,
Founder of Cloud Mountain Marketing
To be effective, a website must accomplish the following three things:
Present a professional, polished image and message to your prospective clients.
Get found by those prospective clients.
Convert those prospects into customers, making money for your business.
In addition to a website being a necessary branding tool, a website can be the most cost-efficient marketing tool for launching and growing a business. When you consider all the different ways that you can spend your marketing dollars, many of the traditional methods like advertising require a huge budget and typically have a very low rate of return. Unless you are Coca-Cola or Budweiser, it's hard to make that work for you. Technology is the most cost-effective marketing channel for most small businesses, and usually delivers the best return on your investment. In order to capitalize on this fact, the company or individual you entrust with building your website must know how to build you a website that, first and foremost, makes you money.
The challenges for small business owners are numerous, and one of the biggest headaches is not knowing where to turn when you need help building, evolving, or maintaining a business website. The industry is overflowing with all kinds of information about websites Internet marketing. In the face of this madness, it's easy to forget to focus on why you need a website in the first place. A website is a marketing tool that helps you build a profitable business!
I've been on the Internet since 1984, and I was doing search engine optimization back in 1995, before Google was a company and long before most people had heard of the world wide web. Over the years, I have developed a proven formula for building a website that makes money. You can read more about the 5 Easy Steps here. Or, simply request the completely free podcast & report featured in our Specials.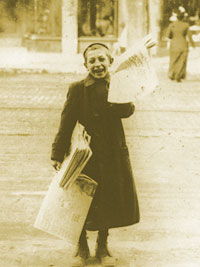 Extra! Extra!
Cloud Mountain cracks the code
on what makes a website
actually work!
And how do I know that a website can really work?
Yes, I agree. There is a lot of stuff out there that sounds too good to be true, and most of it is. A lot of people are promising a lot of things related to Internet marketing, and I'm just as skeptical as you are (probably more so). However, what I teach my clients, and the strategies we implement for people, are things that I've actually done, that have actually worked for me, so I am confident that they can work for you. I've created millions of dollars in revenue, for both products and services, using simple, common-sense Internet marketing strategies. This isn't rocket science! (If it was, I wouldn't be the one doing it.) But as with everything else, you have to have the key for it to work. I would consider it an honor to give you the key to unlock the door to massive success with your website. That's why I've put together the MoxyBoost program.
Your website can be your #1 employee!
Whether or not you currently have employees, what I want to show you is how you can have an employee that never sleeps, takes vacation, calls in sick, or asks for bonuses, an employee who is totally dedicated to making you money, and who can return to you five, ten, twenty, fifty, or even a hundred times what you spend on her. That employee is your website!
When I first started speaking to business groups about how to make your website your #1 employee, I would always ask people to share their "aha moments" from the presentation. And I was surprised that frequently the biggest takeaway was the idea that a business website can—and should—be making money for the business.
After all, why would a business pay for a website if it's not making them money? That's when I realized I needed to do more to get my message out to people. So many small business owners are struggling just to make a living, and many of them have spent thousands of dollars on websites that aren't working. It's time for that to change!
Is your website paying you back? If not, it's time for a change. If so, it can pay you more! If your website is not your number-one salesperson, you are wasting your money.
Wouldn't it be great if your web site could give you a return on investment five times, ten times, or even one hundred times what you spent on it? At Cloud Mountain Marketing, we don't just build websites; we build profitable businesses.
Join the Web Success Club today to start growing your business.